If you are tired of manual submission to social bookmarking sites, SocialMarker will save your sweat and time, by automatically submitting your page to 32 social bookmarking sites – almost handsfree. It greatly speeds up the submission process. SocialMarker will also allow you to submit them without retyping the description, title, key words and URL.
In firefox, you can utilize the SocialMarker Bookmarklet, which makes life even easier. Place SocialMarker Bookmarklet onto your Firefox toolbar. Go to the article you would like to submit and click the socialmarker bookmark. Enter the necessary fields and you are literally done. By default, title and tags should already be filled in by SocialMarker.
Here is a list of sites supported by socialmarker.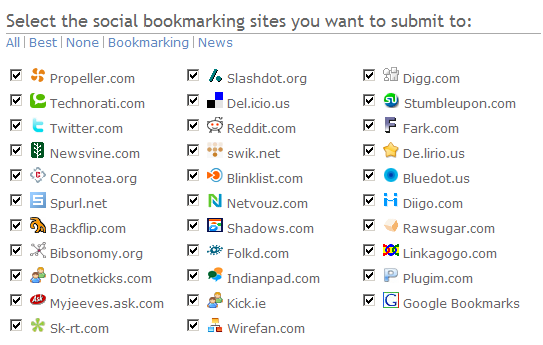 There are also alternatives: socialposter and onlywire. The latter features a dedicated firefox plugin, but the number of sites is far fewer. Socialmarker is my definite choice for submission.
[tags]socialmarker, social bookmarking, bookmark[/tags]